Work for yourself. Set your own schedule.
Do meaningful work.
Have you started thinking about how to earn extra money this summer? Count Me In is a math camp program for girls. It's also a way for teachers to supplement their income ... without committing their entire summer to it.

Count Me In is miles ahead of any other part time work that I have done. It leaves so much more of a summer to enjoy. It's really been a terrific thing for me and my family.
- Brent, CMI teacher
I loved the bonding of each of the groups. The girls were wonderful, the parents were supportive and we received extremely positive feedback.
- Jen, CMI teacher
I would absolutely recommend Count Me In to other teachers! It was not only fun, but a good money maker for the amount of time. Parents have already asked me about dates for next summer!
- Betsy, CMI teacher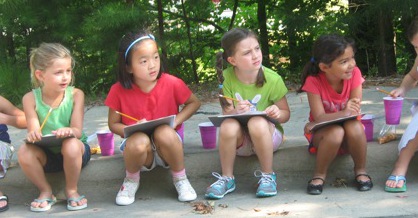 You choose when and where to run your camps.
You charge families what you think is appropriate.
You work for you.
---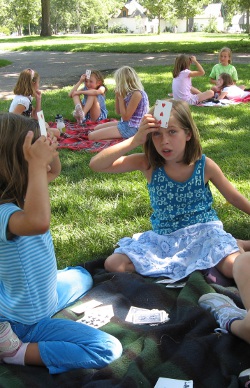 With Count Me In curriculum and materials, you have everything you need to run successful math camps for girls.
Our complete Teacher's Guide including detailed lesson plans, reproducible worksheets, registration forms and more
Daily camp schedules
More than 40 games and activities organized as a week-long half-day camp program
Supplies for all the games and activities - beads, dice, markers, balloons, etc. ... a complete "camp kit"
Suggestions and materials for advertising
---
Want to know more?
Who typically runs Count Me In camps?
Teachers that offer Count Me In camps share our passion for setting girls up for success in math and they love the idea of working for themselves. Count Me In provides a great way for great teachers to earn extra money in the summer.
I'm interested. Which camp kit should I get?
The "Beads and Bar Graphs" program is typically appropriate for girls entering 1st-3rd grades. "Prisms and Perfect Squares" is for girls entering 3rd-6th grades. See our
products
page for more details.
Do I pay Count Me In every time I run a camp? Do I pay for each camper I enroll?
No and no. When you purchase a Count Me In product you are free to use the curriculum and materials to run camps for years to come - without ever paying us again. (We only ask that you let us know when you're offering camps each summer so that we can post that information to our camp schedule.)
Can I really make money doing this?
Do you know parents who would be interested in a girls' math camp for their daughters? If so ... then absolutely. Teachers have been earning money offering Count Me In camps since 2009. Our programs are set up to accommodate twelve girls with two adults. Depending on your enrollment and what it costs you to rent space, running camps each summer can really be profitable. How much you make is up to you. Call or email us for more information.
How much should I charge my campers?
Rates for half-day summer programs really vary across the country (and even within metro areas). It's helpful to know what comparable camps in your community charge when deciding on your price. We've had teachers offer Count Me In camps for free ... and some charge as much as $250 for the week!
What can I tell parents about the math we will cover?
For interested parents, details about the topics covered in each of our camp programs are outlined on our
products
page.